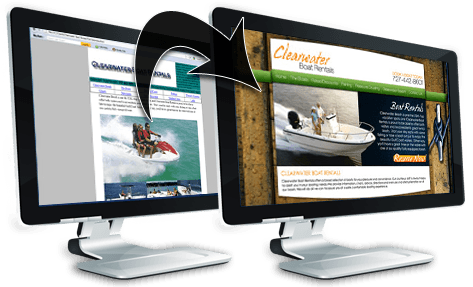 There are many reasons to remake its entire website or revamp it. Whether for new trends that have won your heart, a desire to offer a different look  or provide a better user experience on all devices, revamp a website is a big challenge in itself!
You will need to make some essential steps to revamp your website successfully :
1. The good, the bad and the ugly
You must first make an analysis of your current site. What are its strengths? This may be its ease of use (simple), its colors, its speed, the information contained or something else.
Does your current site selling well? If so, you must be careful because the SEO surely plays a very big role. Otherwise, it will also be needed to assess the authority of pages and the overall ranking just to be sure not to affect the ranking progress.
Do you have tangible user feedback? Do you have any suggestions, negative comments about the functions or there's something essential in your site missing?
2. Retrieve all content
You must collect all the useful content you want to keep. Many people who ask us to redo their website did not even have the photo file of their corporate logo!
Collect all picures if possible. Put the pictures in separate and labeled folders. Copy-paste all the pages in text files.
If you have important links and you never wrote them down, it is time to do so. Follow the links and copy them in the address bar to a text file.
If your site uses a database and you have access to ir, copy , copy, copy!
3. The strategic plan
Such a change of direction in a website requires a well-defined plan. Plan all the goals that your next website must meet.
Categorize the objectives. Such as: Design & Look, Features, Interaction with visitors, Data Management, Interactions with other websites etc.
4. Keep yourself up to date with trends and functionalities
It is best to do business with professional web designers, we say it and repeat. If you are not aware of the latest trends and standards, your new web site will not fulfill your goals.
Your new site has to adapt to all devices, really light framework be to be fast, optimized for the search engines, .CSS files .JS and images must be compressed.
5. Choosing a good web host
Before deploying a new website, make a web host choice. Rate the host and make sure to ask if all your new functions are supported. Check PHP version, MySQL version or limitations etc.
6. Go Social!
Make your site a portal for sharing with social networks. Make sure to update your social networks also and not just your website.
Establish links between your website and Facebook, Twitter, Google+. Bring customer with contests, discounts, promotions to boost your new site.
7. Create a BUZZ
Take this opportunity to create a BUZZ from your current customers or your future visitors. Start a traditional print advertising campaign or create a launch event.
Rally the most people possible to show the changes done in your business. A new website is like to expand a business or do renovations. Your business will be seen in a completely different way by people and sometimes it will attract a different kind of customers!
8. Possess your own digital rights
There is nothing better than to make beautiful pictures and own the rights of them. Do business with a professional photographer or if not, buy a good digital camera.
Use your employees or your family to make your photos. Shoot your own products and propel your brand with a personal touch!
9. Put the plan in action!
After all these steps, start the plan while maintaining the services of your old webssite. Check periodically the progress of the project.
You should first build the functionalities then the design. Follow your plan and do not change it!
If you followed the wise decision to give your project a competent web designer, you will see your plan drives success to your business!