Encryption of Sensitive Data
To surf safely, data encryption is essential on all transactional sites or when a person shares his personal or sensitive information.
Data encryption is done with an addition of a security certificate that establishes a Secure area between the website server and the client browser.
Any business well established, uses an security certificate associated & verified on its own domain name and does not bear this responsibility to a third party as a "gateway" of payment like PayPal.
When you are about to enter personal information, make sure that the address in the browser bar is on "https: //" and/or there is a small display of a padlock. Sometimes, the bar becomes green depending on the certificate used. One or the other of these signs means that your information is safe.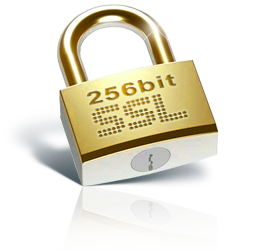 Internet Cloud Canada has placed his entire client area in the Secure area of ​​its website. As soon as you enter the customer area, the address changes to "https: //".
All emails sent to our technical support via online tickets are 100% safe. So you can share with the staff helpful and sensitive data to manage your account.
However, do not use your own email to talk with technical support and this warning is included in all our answers.
Internet Cloud Canada is also concerned about the security of your online account and you can send us a personal password that we will add to your account. A person without the correct password will not be able to retreive or change your informations nor change your products or services via a phone call to us.
SSL Certificate for your own website
It is possible to buy at Internet Cloud Canada security certificates. Our technicians will install it for you (hassle free!), So your visitors will be protected as you are when you browse www.internetcloud .ca
It only takes a few minutes to partially or fully secure your website. You are a seller/trader ?, you collect registration information about your visitors ?, a security certificate is essential for you.
Over 75% of those who shop online are concerned when it comes time to share sensitive information. A security certificate, valid and verified for your domain name increase your reputation and helps selling products and services.

Contact us for all your protection needs of your website!