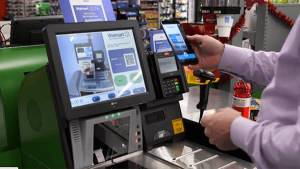 Although some companies are already offering to pay with your smartphone, WAL MART will surely lead the way.
Last Thursday, Wal Mart launched in the U.S. (Wal Mart Pay), a mobile application on iOS and ANDROID that allows its user to pay with their smartphone.
It is a virtual wallet where you enter the information from your credit card to pay, you only have to capture the bar code (QR-CODE) with your smartphone camera and the electronic invoice is sent to the mobile application ( Payment is made quickly )
2016 will be the year for payment by mobile phone. Wal Mart will deploy this new way to pay in all Wal-Mart of the United States by the next summer. Wal Mart Canada should follow either later this year or on late 2016.
Smartphone, the device at least of 3 feet
The cell is undoubtedly the electronic device of choice to join a person or make him change his consumption habits. Today, our cell is less than 3 feet from us. It is therefore easy to send advertising, reminders, notifications.
Therefore payments patterns will change. Forgot your wallet? This is not so serious because surely you have not forgotten your phone!
By providing useful applications, or replacing an habit by another one, is the key for major profits and gain the client's loyalty. Wal Mart has understood this, let's see who will be the next ones…