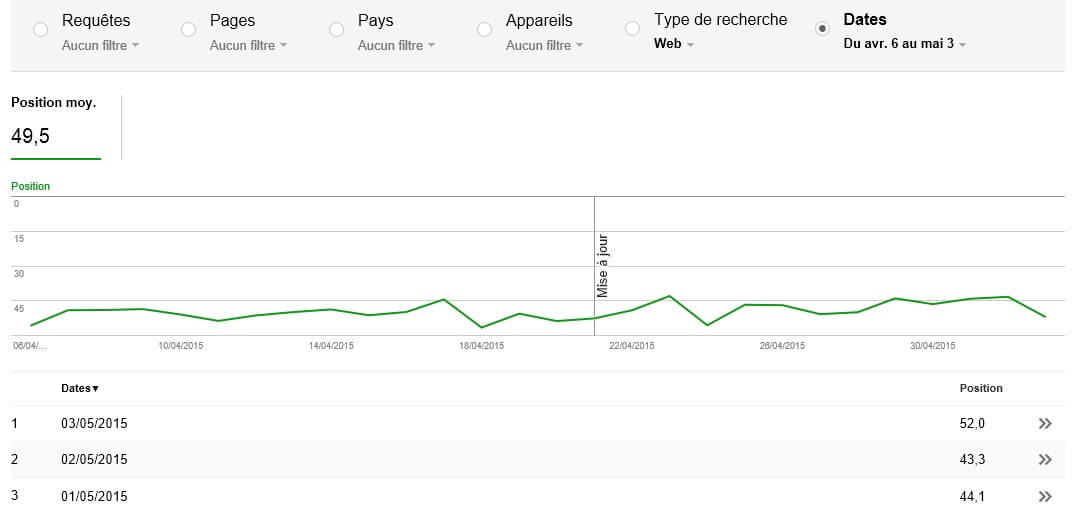 Google Mobilegeddon Impact
Since the urecent pdate of Google, this last 21 April, it is not easy to see the impact of this measure on websites. To help you in this important task, Google has now introduced further analysis queries in Webmasters Tools.
You are now able to see the difference on requests from a computer, a mobile and make comparisons "BEFORE" and "AFTER" April 21st. Have a look at the picture included in this article, you'll see the line delimiting April 21.
It will offers all webmasters the opportunity to dig deeper into the statistics to isolate potential problems with SEO.
Mobile searches
Google announced that research on Mobile now exceed those on computers in 10 unspecified countries. We are now understanding why this update was made by Google.
A future reached
Websites owners must adapt to the reality that visitors are now increasingly on their mobile devices as they browse the web.
Web designers, must plan the website to be mobile friendly at least but we think that soon, they will create websites for mobile and then adapt them for desktop computers. The increasing popularity of mobile in all aspects of our lives shows that the balance has shifted to the other side.