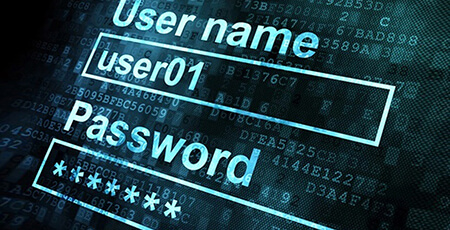 The weekend is only in 2 days and summer is approaching … So why not review your Computer Security and gives yourself the best gift possible, the peace of mind?
It is good to do a safety check on a regular basis to ensure that you have all the chances on our side to stop malicious attacks viruses or other intrusions.
Let's see some computer security tips, which you may choose to add to your "check list" :
1. Passwords
The rule is to change your passwords frequently and give them a high level of security. Avoid using the same password for all access in different systems: Banking, Website, Email, Facebook, etc.
You must absolutely never write down your password list in a file on your computer because you will undermine all your security efforts. Either you remember your complex passwords, or you use a software or external security service. Internet Cloud Canada does not recommend a software or an external service, as safety is a personal matter.
How to remember passwords? First forget what is a passwords. Instead, think of sentences or a unique situation which marked you. Personally, I have a few sentences of my childhood (out of my imagination and some life situations). These sentences, becames little jokes and word games.
These little stories have became too, my personal passwords for various levels of security. I have a sentence with regard to finance, another for what I use for personal access, another for web browsing etc. I have accumulated enough to create a level of security that no supercomputer will never guess because my sentences are long, absurd, illogical and silly!
However, this is the best protection and I recommend it. At worst, invent them, repeat them and you will see how they make excellent passwords!
2. Use different email addresses
It is easy to get free emails on the Internet. Use them to build your access in different services. So, have a different email for Facebook, Twitter and another for your web ite, it is best to use for websites a generic email as: infos@yoursite.com, sales@yoursite.com etc.
This way, it's easy to target a possible security breach and if you receive a lot of "spam" on a free email, you can change it quickly and eliminate them without hassle.
Access to your bank accounts must be on protected emails (not free ones like hotmail, gmail or others). These emails should only be used for your finances, do not use them for regular email exchanges.
3. Virtualize your Internet navigation
There are plenty of free solutions to virtualize a web environment. This allows you to load and use a resource on your computer that is confined to the virtual block. During a virus attack your computer is completely safe, you only have to destroy the virtualized space and create another one if you are under attack. Your computer will never get severe infections due to this one little security tip!
4. Credit cards
Use with confidence your credit cards on the internet, if the website you are purchasing is recognized and includes security features such as an https address and a valid security certificate. You can test if a website has a security certificate by going to the free tool offered by GEOTRUST.
Never buy with your Debit Card online because the bank protections are not the same and they give too much information / access to your real accounts.
5. Logout of websites
You have to disconnect persistent "logins". Obviously, it's faster and easier to stay connected by cookies, but it is exploitable by an attacker if the site shows programming deficiencies or if an "exploit" is perceived.
6. Enter your own addresses
Often the emails contain links that we need to click to access a service. These links can be modified in order to direct you to a phishing site. It is best to write your own links or create your list of favorites. You'll be sure to be at the right place!
7. Updates
You need to install all your updates. From the operating system, your browser, your software, your programs and extensions. ALL OF THEM !
8. Be informed
Join US-CERT and be informed of threats in real time.
You can add these tips to your checklist if they are not already there!